Simply the
Best Bakery
First opened in West Seattle where the historic Blake's Bakery once stood, William and Heather Leaman continue to make history daily with one-of-a-kind creations.
With over 20 years experience in pastry, bread and chocolate, and as the captain of the 2005 Bread Bakers Guild Team USA, where he led his team to victory at the Coupe du Monde de Boulangerie (World Cup of Baking), William Leaman's Bakery Nouveau has become a Seattle icon.
His recent awards include:
WINNER for BEST Bakery 4 years in a row (2010, 2011, 2012, 2013)
2015 Readers' Choice, Best Bakery– Seattle Magazine
2014 Reader Picks Best of Seattle, Best Bakery and Best Pastry- Seattle Weekly
2015 28 out of 30 points – Zagat
Featured in a variety of industry and lifestyle publications, such as Sunset Magazine, Seattle Magazine, Pastry and Baking North America, Bake Magazine, The Stranger, and Parent Map Online
2008 May issue of Sunset Magazine
2008 February issue of Seattle Magazine
Winter 2009 issue of Seattle Metropolitan Bride and Groom Magazine
and received a 2009 Zagat rating of 28 out of 30 points.
Locations
Bakery Nouveau has three locations in the greater Seattle area. You can find great food and coffee at our original location in West Seattle, our second location on Capitol Hill, and our newest location in Burien.
Visit our Contact Us page for more details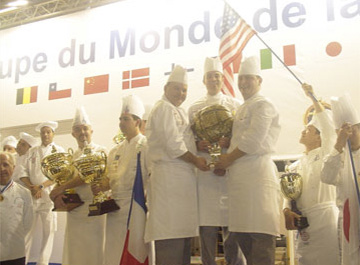 Press
Bakery Nouveau has been featured in local, regional, national and industry publications.  Visit our Press Page to see some of the reviews, interviews and awards that we've received. 
Visit our Press Page
Behind the Scenes
Curious what our kitchens look like?  Check out the gallery below for a rotating group of images showing some of the work that goes into making delicious breads, pastry and desserts.